February, 2012
>
Okay, so…I've started a new WIP. I wrote a synopsis that's fairly decent last week (read: sucks eggs. LOL), today and tomorrow I'll spend writing my chapter by chapter outline, and hopefully I'll start drafting it by the end of the week.
My MC is as different from the one in RENEGADE as a tree is to a chicken. They're both living things, but there's no way you'd mistake one from the other. And that's my characters. It's actually amusing to me how different they are, but how similarly they started telling me their story! It both started with them telling me the first sentence of the book. I'm hoping that's a good sign. LOL!
But they're so different I'm a little worried that people won't recognize the book as one of mine.
But then, last night, my daughter was comparing our feet. And I noticed how different they were. Not just the size, but the entire structure. She has dancer's feet. I most definetely don't. But her nose is definitely mine. Her ears. My husband. But her hair is mine. I could go on and on about how different she is, yet how much the same. But that's not the point.
The point is that no matter how different she is from me, there's always something I can point out that's all me. And my characters are the same. No matter how different they are from each other, they're written (i.e. created) by me. I'm sure people will see enough similarities in my style to know it's from me. Just like people who see my daughter know she's mine by her similarities to me.
And that, to me, is how it's supposed to be. Each character I create should be different (no one wants to read about cookie cutter characters that are the same from book to book), but yet, they should be the same that they're recognizable as mine.
Speak up:
1 comment
>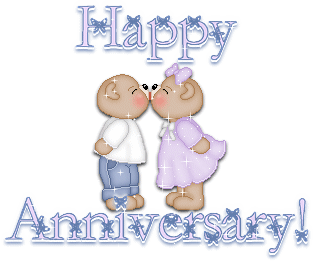 February is my absolute favorite month. It always has been. Even before it held any real meaning for me. And as another trivia question answer, the 17th is my favorite number. I don't know why except to say it's just always been that way.
Now I have real reasons to <3 both of those things, because 15 years ago on this day (it was President's day, in case you care) was the day my now husband asked me out on our first date. (Well, asking is probably too much, it was more of a I'd really like to go out with you and I'm not taking no for an answer. :P)
Three years later to the day, we got married. And now 12 years after that, we're still married. And happily. I think I love him more now than I did then. 🙂 Plus we have 2 fabulous kids.
Sure, we've had some rough times (read VERY rough), but we've always weathered through them. Together. We've always worked better as a team, then when we do things separately. And I was reminded of that this weekend, while trying to finish a project around the house.
My husband dropped a bit (an expensive bit) inside the wall (long story) and no matter how he tried to get it out himself, he couldn't. Even when our son tried to help, he couldn't get it out. But when I helped (it took awhile) we managed to work as a team and get it out without broken fingers, egos, or the bit. I'd say that was a job well done.
But, anyway, I digress. I just wanted to send out a shout-out to my awesome husband on one of the most important days of my life.
I love you, honey! Thank you for 15 wonderful years. Here's to many, many more.
XOXO,
Jess
Speak up:
Comments Off

on Another Anniversary
>I know I've been absent a lot from this blog lately, but it has been CRAZY around here. Phew! Especially this past month with two books having deadlines a week apart. 0.o But, I LOVE it. I wouldn't change a thing.
Anyway, onto the post!
Today marks the two year anniversary of when my agent (the fab Natalie Lakosil) offered representation! I am just as excited now as I was then to say she's my agent. She's been awesome, even when I wanted to yank my hair of of my head and bang it's baldness against my desk (or a handy wall) repeatedly.
She's dealt with my impatience and insecurities without batting so much as an eyelash. And she never once made me feel like I was unimportant. In fact, most of the time, she's made me feel like I was her only client, which obviously isn't true.
So I just wanted to send a public thank you to her for all her awesomeness!
And now for some good news I haven't been taken the time to announce, but would like to "officially" share with you.
First, a minor, but very happy making thing. Book 2 is finished and has been sent to my awesome editor. I canNOT wait to see what she says about it, so I can start book 3. Eee! I've got some great things planned out, so I'm jonesing to write it!
A relatively huge thing for me, which isn't a secret as I've posted it on my book page, my website and twitter, but RENEGADE has sold German translation rights to Piper in there new imprint IVI!
A special thank you to the wonderful Taryn Fagerness and my German editor, Beatrice!
Here's the PM announcement:
Foreign Rights Sale: Jessica Souders' RENEGADE to Piper in Germany, by Taryn Fagerness of Fagerness Literary Agency on behalf of Natalie Lakosil of Bradford Lit.
More news on that when it comes.
Some personal news, I'll share tomorrow. 🙂
And last, but not least, since I can't ever sit still for long, I'm excited about a new project that's been itching to be written for awhile now. More news on THAT later.
I'll try to keep up with this a bit more now that my crazy days are a little less crazy.
Until later,
Adieu!
Speak up:
Comments Off

on A few thank yous (and news)
>Thanks to everyone who entered the hop! It was a huge success as far as I'm concerned!
In case you didn't see it on the giveaway post, the winner is:
Congrats, Sharmaine! Email me at j.souders (at) jasouders (dot) com with your address and what book you want.
Thanks again for everyone who entered.
Speak up:
Comments Off

on Follower Love Giveaway
>Oh my gosh, guys! I've been so flaky lately and I totally forgot to announce the winners for this!
So without further adieu or delay. The winner is:
LOUISA
Email me at j.souders (at) jasouders (dot) com with your address and I'll get that prize out to you ASAP.
Speak up:
Comments Off

on Cover reveal contest winner