May, 2012
>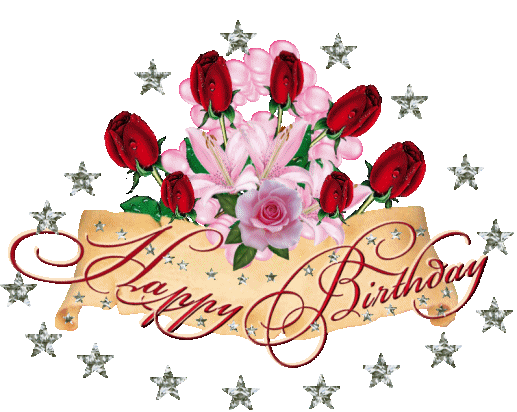 It's my BIRTHDAY! I love celebrating almost every occassion, especially my birthday. I don't know why. I guess normal girls stop celebrating birthdays after a certain point, but I always get excited about mine. 🙂 But, no, I won't tell you how old I am. 🙂
So, onto the giveaway part of this blogpost. Because I love to giveaway things and I love celebrating my birthday, I'm going to giveaway an ARC of ARISE by Tara Hudson. I love this series and I was so excited to be able to get an ARC from RT. And now I'm passing it along. It was awesome, I'm sure you'll love it.
As you probably know ARISE is the stunning sequel to HEREAFTER.
Here's the back cover copy:
New Orleans

Saint Louis

Number One Cemetery

A night there can change a life . . . or a death.

Increasingly worried that dark spirits will carry out their threats and hurt the people she cares for most, Amelia is ready to try anything to protect them. And for his own very different reasons, Joshua has come to this cemetery at midnight to join her in a powerful ritual. Both know that once Amelia steps inside the Voodoo circle and the beautiful girl from the Conjure Café begins the ceremony, everything will change.
Tara Hudson's enthralling sequel to Hereafter escalates the danger and excitement, bringing a new dimension to her already mesmerizing story of a haunted love.
And a trailer!
What do you have to do to win?
Just fill out the rafflecopter widget below. It's that easy. Unfortunately I'm going to have to make this US only. Sorry International people, but I promise to do more international contests soon.
Speak up:
Comments Off

on Birthday Bash Giveaway
>Wow, you all are awesome. Thank you so much to everyone who entered my contest. There was WAY more than I expected. I honestly only expected a handful and ended up with almost 200 entries, so thank you!
And thank you for sharing the memories with me. Some made me laugh, some made me go, Aww! And some made me cry. And let me just say that I'm so glad that I used random.org to choose a winner because if I was going on best memory, I wouldn't have been able to pick!
Okay, so no further delaying. The winner of the ARC of RENEGADE is:
(Drumroll please)
Jaime S
Congratulations, Jaime! I'll be sending you an email soon with details.
For everyone else, thank you so much for entering! Please send me an email to j(DOT)souders(AT)jasouders(DOT)com with your mailing address so I can send you those signed bookplates.
Also, Friday is my birthday and I'm going to be doing another giveaway, so make sure to come back then.
Speak up:
Comments Off

on Winner Announced: YAmazing Race Part Deux
>
"Waiting On Wednesday" is a weekly event, hosted by Jill from Breaking the Spine, that spotlights upcoming releases that we're eagerly anticipating.
My selection for this week's pre-publication "can't-wait-to-read" selection is:
GILT by Katy Longshore (Viking)
In the court of King Henry VIII, nothing is free–
and love comes at the highest price of all.


When Kitty Tylney's best friend, Catherine Howard, worms her way into King Henry VIII's heart and brings Kitty to court, she's thrust into a world filled with fabulous gowns, sparkling jewels, and elegant parties. No longer stuck in Cat's shadow, Kitty's now caught between two men–the object of her affection and the object of her desire. But court is also full of secrets, lies, and sordid affairs, and as Kitty witnesses Cat's meteoric rise and fall as queen, she must figure out how to keep being a good friend when the price of telling the truth could literally be her head.
I've always been a sucker for British historicals and King Henry VIII has always been fascinating to me. Plus, the cover is gorgeous. Definitely on my list of can't wait for reads.
Speak up:
Comments Off

on Waiting On Wednesday: GILT
>
A happy book birthday to the following Apocalypsies!
STRUCK by Jennifer Bosworth (FSG)
Mia Price is a lightning addict. She's survived countless strikes, but her craving to connect to the energy in storms endangers her life and the lives of those around her.

Los Angeles, where lightning rarely strikes, is one of the few places Mia feels safe from her addiction. But when an earthquake devastates the city, her haven is transformed into a minefield of chaos and danger. The beaches become massive tent cities. Downtown is a crumbling wasteland, where a traveling party moves to a different empty building each night, the revelers drawn to the destruction by a force they cannot deny. Two warring cults rise to power, and both see Mia as the key to their opposing doomsday prophecies. They believe she has a connection to the freak electrical storm that caused the quake, and to the far more devastating storm that is yet to come.

Mia wants to trust the enigmatic and alluring Jeremy when he promises to protect her, but she fears he isn't who he claims to be. In the end, the passion and power that brought them together could be their downfall. When the final disaster strikes, Mia must risk unleashing the full horror of her strength to save the people she loves, or lose everything.
CHAINED by Lynne Kelly (Farrar, Straus, & Giroux)
After ten-year-old Hastin's family borrows money to pay for his sister's hospital bill, he leaves his village in northern India to take a job as an elephant keeper and work off the debt. He thinks it will be an adventure, but he isn't prepared for the cruel circus owner. The crowds that come to the circus see a lively animal who plays soccer and balances on milk bottles, but Hastin sees Nandita, a sweet elephant and his best friend, who is chained when she's not performing and hurt with a hook until she learns tricks perfectly. Hastin protects Nandita as best as he can, knowing that the only way they will both survive is if he can find a way for them to escape.
HEMLOCK by Kathleen Peacock (Katherine Tegen Books)
Mackenzie and Amy were best friends. Until Amy was brutally murdered.

Since then, Mac's life has been turned upside down. She is being haunted by Amy in her dreams, and an extremist group called the Trackers has come to Mac's hometown of Hemlock to hunt down Amy's killer: A white werewolf.

Lupine syndrome—also known as the werewolf virus—is on the rise across the country. Many of the infected try to hide their symptoms, but bloodlust is not easy to control.

Wanting desperately to put an end to her nightmares, Mac decides to investigate Amy's murder herself. She discovers secrets lurking in the shadows of Hemlock, secrets about Amy's boyfriend, Jason, her good pal Kyle, and especially her late best friend. Mac is thrown into a maelstrom of violence and betrayal that puts her life at risk.

Kathleen Peacock's thrilling novel is the first in the Hemlock trilogy, a spellbinding urban fantasy series filled with provocative questions about prejudice, trust, lies, and love.
Speak up:
Comments Off

on Happy Book Birthday
>
NOTE: The race is officially over! Winners will be announced tomorrow on the apocalypsies blog for the race and for my own contest I'll announce here tomorrow along with instructions on how to get your signed bookplate. Thanks for entering!
ETA: I'm having trouble with my comments section for some reason. However, I'm still getting all comments, even if they can't be seen below. I will still be able to draw a winner. 🙂
Whoot! It's that time again. Time for the 2nd YAmazing Race with MGnificent prizes! In case you weren't here for the first one, it's a blog hop featuring over 50 debut authors, and prize packs that include ARCs, gift certificates, swag, and more! If you haven't yet been to the Apocalypsies website, please click here to start from the beginning and read the complete rules.
Welcome to my stop! Now on to the race!
RENEGADE by J.A. Souders
Since the age of three, sixteen-year-old Evelyn Winters has been trained to be Daughter of the People in the underwater utopia known as Elysium. Selected from hundreds of children for her ideal genes all her life she's thought that everything was perfect; her world. Her people. The Law.

But when Gavin Hunter, a Surface Dweller, accidentally stumbles into their secluded little world, she's forced to come to a startling realization: everything she knows is a lie.
Her memories have been altered.

Her mind and body aren't under her own control.

And the person she knows as Mother is a monster.

Together with Gavin she plans her escape, only to learn that her own mind is a ticking time bomb… and Mother has one last secret that will destroy them all.
Got all that?
Great! You'll need remember it for the quiz ahead! And don't forget, you must complete ALL FIVE quizzes to be eligible for a prize pack.
But, wait! I have another giveaway for you!
Want to win an ARC when I get them?
Just tell me what one memory you don't want to lose in the comments and don't forget to add your email addy.
Bonus points:
This contest is open internationally. And as a special thank you, I will send a signed bookplate to EVERYONE who enters! Be sure to preorder your copy of RENEGADE today (IndieBound, Barnes And Noble, Book Depository, Books-A-Million, Powell's, Amazon ) to have something to stick it in!


Thanks for stopping by. Ready to move on?
Click HERE to go to the next stop on the race!
Speak up:
Comments Off

on YAmazing Race with MGnificent prizes part Deux!