>
"Waiting On Wednesday" is a weekly event, hosted by Jill from Breaking the Spine, that spotlights upcoming releases that we're eagerly anticipating.
My selection for this week's pre-publication "can't-wait-to-read" selection is:
In the court of King Henry VIII, nothing is free–
and love comes at the highest price of all.


When Kitty Tylney's best friend, Catherine Howard, worms her way into King Henry VIII's heart and brings Kitty to court, she's thrust into a world filled with fabulous gowns, sparkling jewels, and elegant parties. No longer stuck in Cat's shadow, Kitty's now caught between two men–the object of her affection and the object of her desire. But court is also full of secrets, lies, and sordid affairs, and as Kitty witnesses Cat's meteoric rise and fall as queen, she must figure out how to keep being a good friend when the price of telling the truth could literally be her head.
I've always been a sucker for British historicals and King Henry VIII has always been fascinating to me. Plus, the cover is gorgeous. Definitely on my list of can't wait for reads.
---
>
A happy book birthday to the following Apocalypsies!
STRUCK by Jennifer Bosworth (FSG)
Mia Price is a lightning addict. She's survived countless strikes, but her craving to connect to the energy in storms endangers her life and the lives of those around her.

Los Angeles, where lightning rarely strikes, is one of the few places Mia feels safe from her addiction. But when an earthquake devastates the city, her haven is transformed into a minefield of chaos and danger. The beaches become massive tent cities. Downtown is a crumbling wasteland, where a traveling party moves to a different empty building each night, the revelers drawn to the destruction by a force they cannot deny. Two warring cults rise to power, and both see Mia as the key to their opposing doomsday prophecies. They believe she has a connection to the freak electrical storm that caused the quake, and to the far more devastating storm that is yet to come.

Mia wants to trust the enigmatic and alluring Jeremy when he promises to protect her, but she fears he isn't who he claims to be. In the end, the passion and power that brought them together could be their downfall. When the final disaster strikes, Mia must risk unleashing the full horror of her strength to save the people she loves, or lose everything.
CHAINED by Lynne Kelly (Farrar, Straus, & Giroux)
After ten-year-old Hastin's family borrows money to pay for his sister's hospital bill, he leaves his village in northern India to take a job as an elephant keeper and work off the debt. He thinks it will be an adventure, but he isn't prepared for the cruel circus owner. The crowds that come to the circus see a lively animal who plays soccer and balances on milk bottles, but Hastin sees Nandita, a sweet elephant and his best friend, who is chained when she's not performing and hurt with a hook until she learns tricks perfectly. Hastin protects Nandita as best as he can, knowing that the only way they will both survive is if he can find a way for them to escape.
HEMLOCK by Kathleen Peacock (Katherine Tegen Books)
Mackenzie and Amy were best friends. Until Amy was brutally murdered.

Since then, Mac's life has been turned upside down. She is being haunted by Amy in her dreams, and an extremist group called the Trackers has come to Mac's hometown of Hemlock to hunt down Amy's killer: A white werewolf.

Lupine syndrome—also known as the werewolf virus—is on the rise across the country. Many of the infected try to hide their symptoms, but bloodlust is not easy to control.

Wanting desperately to put an end to her nightmares, Mac decides to investigate Amy's murder herself. She discovers secrets lurking in the shadows of Hemlock, secrets about Amy's boyfriend, Jason, her good pal Kyle, and especially her late best friend. Mac is thrown into a maelstrom of violence and betrayal that puts her life at risk.

Kathleen Peacock's thrilling novel is the first in the Hemlock trilogy, a spellbinding urban fantasy series filled with provocative questions about prejudice, trust, lies, and love.
---
>
NOTE: The race is officially over! Winners will be announced tomorrow on the apocalypsies blog for the race and for my own contest I'll announce here tomorrow along with instructions on how to get your signed bookplate. Thanks for entering!
ETA: I'm having trouble with my comments section for some reason. However, I'm still getting all comments, even if they can't be seen below. I will still be able to draw a winner. 🙂
Whoot! It's that time again. Time for the 2nd YAmazing Race with MGnificent prizes! In case you weren't here for the first one, it's a blog hop featuring over 50 debut authors, and prize packs that include ARCs, gift certificates, swag, and more! If you haven't yet been to the Apocalypsies website, please click here to start from the beginning and read the complete rules.
Welcome to my stop! Now on to the race!
RENEGADE by J.A. Souders
Since the age of three, sixteen-year-old Evelyn Winters has been trained to be Daughter of the People in the underwater utopia known as Elysium. Selected from hundreds of children for her ideal genes all her life she's thought that everything was perfect; her world. Her people. The Law.

But when Gavin Hunter, a Surface Dweller, accidentally stumbles into their secluded little world, she's forced to come to a startling realization: everything she knows is a lie.
Her memories have been altered.

Her mind and body aren't under her own control.

And the person she knows as Mother is a monster.

Together with Gavin she plans her escape, only to learn that her own mind is a ticking time bomb… and Mother has one last secret that will destroy them all.
Got all that?
Great! You'll need remember it for the quiz ahead! And don't forget, you must complete ALL FIVE quizzes to be eligible for a prize pack.
But, wait! I have another giveaway for you!
Want to win an ARC when I get them?
Just tell me what one memory you don't want to lose in the comments and don't forget to add your email addy.
Bonus points:
This contest is open internationally. And as a special thank you, I will send a signed bookplate to EVERYONE who enters! Be sure to preorder your copy of RENEGADE today (IndieBound, Barnes And Noble, Book Depository, Books-A-Million, Powell's, Amazon ) to have something to stick it in!


Thanks for stopping by. Ready to move on?
Click HERE to go to the next stop on the race!
---
>
A happy book birthday to the following Apocalypsies!

WHAT SHE LEFT BEHIND by Tracy Bilen (Simon Pulse)
In this suspenseful thriller, Sara and her mother are going to secretly escape her abusive father—when her mother mysteriously disappears.Sara and her mom have a plan to finally escape Sara's abusive father. But when her mom doesn't show up as expected, Sara's terrified. Her father says that she's on a business trip, but Sara knows he's lying. Her mom is missing—and her dad had something to do with it. With each day that passes, Sara's more on edge. Her friends know that something's wrong, but she won't endanger anyone else with her secret. And with her dad growing increasingly violent, Sara must figure out what happened to her mom before it's too late…for them both.

THE VICIOUS DEEP by Zoraida Córdova (Sourcebooks Fire)
For Tristan Hart, everything changes with one crashing wave.

He was gone for three days. Sucked out to sea in a tidal wave and spit back ashore at Coney Island with no memory of what happened. Now his dreams are haunted by a terrifying silver mermaid with razor-sharp teeth.

His best friend Layla is convinced something is wrong. But how can he explain he can sense emotion like never before? How can he explain he's heir to a kingdom he never knew existed? That he's suddenly a pawn in a battle as ancient as the gods.

Something happened to him in those three days. He was claimed by the sea…and now it wants him back.
WELCOME CALLER, THIS IS CHLOE by Shelley Coriell (Amulet)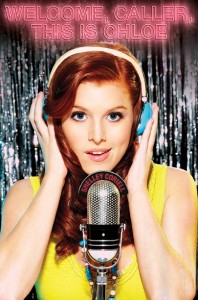 Big-hearted Chloe Camden is the queen of her universe until her best friend shreds her reputation and her school counselor axes her junior independent study project. Chloe is forced to take on a meaningful project in order to pass, and so she joins her school's struggling radio station, where the other students don't find her too queenly. Ostracized by her former BFs and struggling with her beloved Grams's mental deterioration, lonely Chloe ends up hosting a call-in show that gets the station much-needed publicity and, in the end, trouble. She also befriends radio techie and loner Duncan Moore, a quiet soul with a romantic heart. On and off the air, Chloe faces her loneliness and helps others find the fun and joy in everyday life. Readers will fall in love with Chloe as she falls in love with the radio station and the misfits who call it home.
---
>Hi all. Most of you probably know, I try to keep out of politics or really anything inflammatory because I really don't see a point in fighting (which invariably happens), plus I HATE conflict unless it's in my books. However, my husband showed me this video last night and I HAD to share it.
What happened to these poor people is DISGUSTING. Completely disgusting. And it's not just the fact of what happened, which is horrible on it's own. It's the fact that the media doesn't care AT ALL. I NEVER heard a word of this before now. And I don't even have words for it now except to say that they deserved better. Much better.
I can't do much to help, but I can share the video. And hope that I can spread the word. So, please, if you could just take a few minutes of your time to watch the video and share it as well, I would appreciate it.
And to Mr. Strait and his family: You and your wife deserved better. I'm very sorry for what happened and how it was basically ignored by every media outlet. My thoughts and prayers will be with you and your family.
To all my blog readers. We're all adults (or young adults) here and we're smart, beautiful people. I know that not everyone will agree with me or the video and will want to voice that opinion. As I have voiced mine. Of course, that's fine. In fact, I will encourage smart discussion of this topic. Therefore, I will leave comments available for this post, but PLEASE, please keep in mind what this family has already gone through and keep your comments respectful and tasteful. Anything I determine to be disrespectful, inflammatory, or racist/sexist, etc, will be deleted.
---